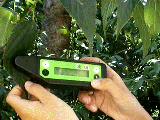 What is it?
atLEAF CHL PLUS is a powerful, handheld, easy to use device for noninvasively measuring the relative chlorophyll content of green leaf plants. Chlorophyll content can be an indicator of the plant's condition.
How does it work?
Plant relative chlorophyll concentration is measured by inserting a leaf into the device aperture. Green leaves of up to 0.1 inch (3mm) thickness can be measured. It only takes one press of the key to perform a basic measurement.
By utilizing the four atLEAF CHL PLUS keys you can:
-assign species names to the measurements; device can store up to 490 names
-view up to 9,554 measurements stored in the device's memory
-delete the most recently performed measurement
-delete all measurements
-transfer plant names to the device or measurements to a computer using the USB mode
-display sensor temperature in °F and °C
-display time (*)
-perform and show average on selectable number of stored measurements
-Each performed measure has associated device time and sensor temperature (*).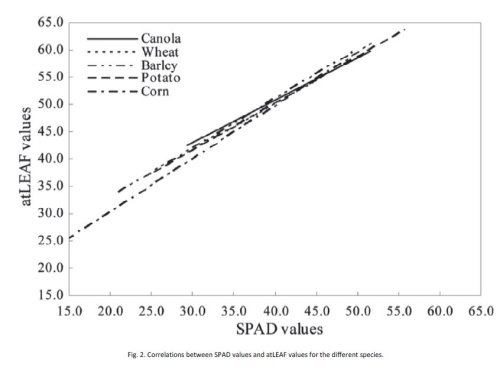 Content of the box:
atLEAF+ handheld chlorophyll meter
Two AA batteries
USB cable
CD-ROM with software
Printed User Manual